Facial Surgery with Dr. Douglas Ousterhout on June 13, 2000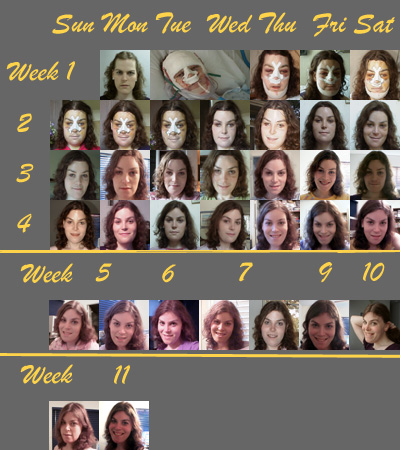 | | |
| --- | --- |
| Before - June 12, 2000 | After - April, 2001 |
| | |
Click a picture to get more details...
Hello there!
This isn't meant to be a completely comprehensive site to detail Dr. Ousterhout's facial surgeries, but rather a daily (and later weekly) photo archive to show the recovery process, as well as to give my brief comments along the way. For more information, there are several other excellent FFS sites on the web:
Just a few of my own notes:
Dr. Ousterhout changed his procedure slightly in early 2000. He no longer uses the dissolvable screws for scalp advancements (having discovered a better technique). This has eliminated a few of the minor annoyances experienced by some of his prior patients.
I had a much easier recovery than many have reported. It may be due to my age, pain tolerance, or whatever... but just remember, everyone is different, and not all recoveries will be the same.
The one thing I would have done differently: Double check for extra staples after the final staple/suture removal. There were 3 that Dr. O missed (and so did I until over a week later). Their staple remover is a lot better than a pair of needle-nosed pliers!
OK, thanks for stopping by. If you want some more information about me, check my announcement webpage, or write to me at madeleine@cinematter.com. TTFN!